Our Vision @ Wiseberg
"Wise Christians."

The vision of the Wiseberg Academy is Christians well versed in and practicing the wisdom
of God, or God's good and wise design for His creation, as it is revealed in the Bible and as it applies to all aspects of our lives; including our flourishing as individuals, our relationships,
our economic activities and our lives in the community of God's saints.
"Wise Communities."
Such wise Christians then through their living out this wisdom in their lives and deliberately
sharing it would bear witness to the world and would transform the communities they live in.
Our Mission @ Wiseberg
"Transforming cultures through spreading God's wisdom."

The mission of the Wiseberg Academy is to change people's worldviews through teaching them God's wisdom for all aspects of our lives.
Needs we want to address:
(1) Privatization of faith/ Sunday-Monday Gap: the need to understand how all-embracing and practically beneficial Christian worldview is.

(2) Cultural pressures: the need to understand the trajectory of cultural changes and to offer viable Christian alternatives.
From inconsistent fragmentation to coherent and unifying big picture view,
From subjective feelings based to objective external reality-based view,
From emphasis on rights and entitlements to joyful embrace of our creaturely duties and responsibilities.
(3) Apologetic: the need to present Christian worldview winsomely to the peoples and cultures who have only distorted views on what Christian way is about.
Our [re]sources:
(1) The Holy Scripture as foundation, with emphasis on:
(a) Theology of Creation,
(b) Wisdom Theology,
(c) Biblical Anthropology.

(2) Lutheran Theology, with emphasis on:
(a) Luther's anthropology,
(b) Luther's teaching of vocation,
(c) Theology of the Word, Law and Gospel, and more.

(3) Cultural Anthropology, with focus on:
(a) Concept of worldviews,
(b) Concept of culture.

(4) Contemporary research in related fields.
(5) Continuous pursuit of deeper understanding and integration of all the above.
Our actions:
(1) What we want to teach/promote?
(a) The concept of God's good design, the order or creation, the Creator's wisdom.
(b) The concept of worldview, life-organizing story, the world-picture.
(c) Both together as "The Glasses of Wisdom".
(2) What aspects of life are we aiming to transform?
(a) Wisdom for Life: focus on individuals;
(b) Wisdom for Relationships: focus on marriages;
(c) Wisdom for Workplace: focus on economic activities;
(d) Wisdom for Church: focus on congregations
(3) Who may benefit from this project?
(a) Individuals: through online lectures and face-to-face seminars.
(b) Couples: through online lectures and face-to-face seminars.
(c) Christian secondary and tertiary educational institution.
(d) Christian organizations: business, non-profits by shaping their organizational culture.
(e) Pastors & congregations: Biblical wisdom for finding their way.
(f) Whoever else outside of Christian community may want to benefit from it.
(4) How would we deliver this project?
(a) Creating a community of wisdom students/ and companies.
(b) Providing online lectures: for individuals, couples and organizations.
(c) Creating a network of trained facilitators/representatives.
(d) Providing face-to-face seminars: for individuals, couples and organizations.
(e) Making this community accessible and Wiseberg programs available in as many languages as possible.
(f) Aiming to have regional/language representatives.
(g) Through the distributors: educational institutions teaching individuals.


Name. Slogan. Logo.
"Wiseberg."
A word containing allusions to: [1] wisdom,
[2] iceberg – as a great visual illustration for how our worldviews function, and [3] mountain as a reference to the Mount Sinai where God Yahweh revealed His eternal will, His wise design for
His human creatures.
"Seeing wisely."
Each word refers to one of the two foundational concepts for Wiseberg project.
"Seeing" – a metaphor for our worldviews;
"Wisely" – a reference to God's wisdom, to
His wise design for His favourite creatures.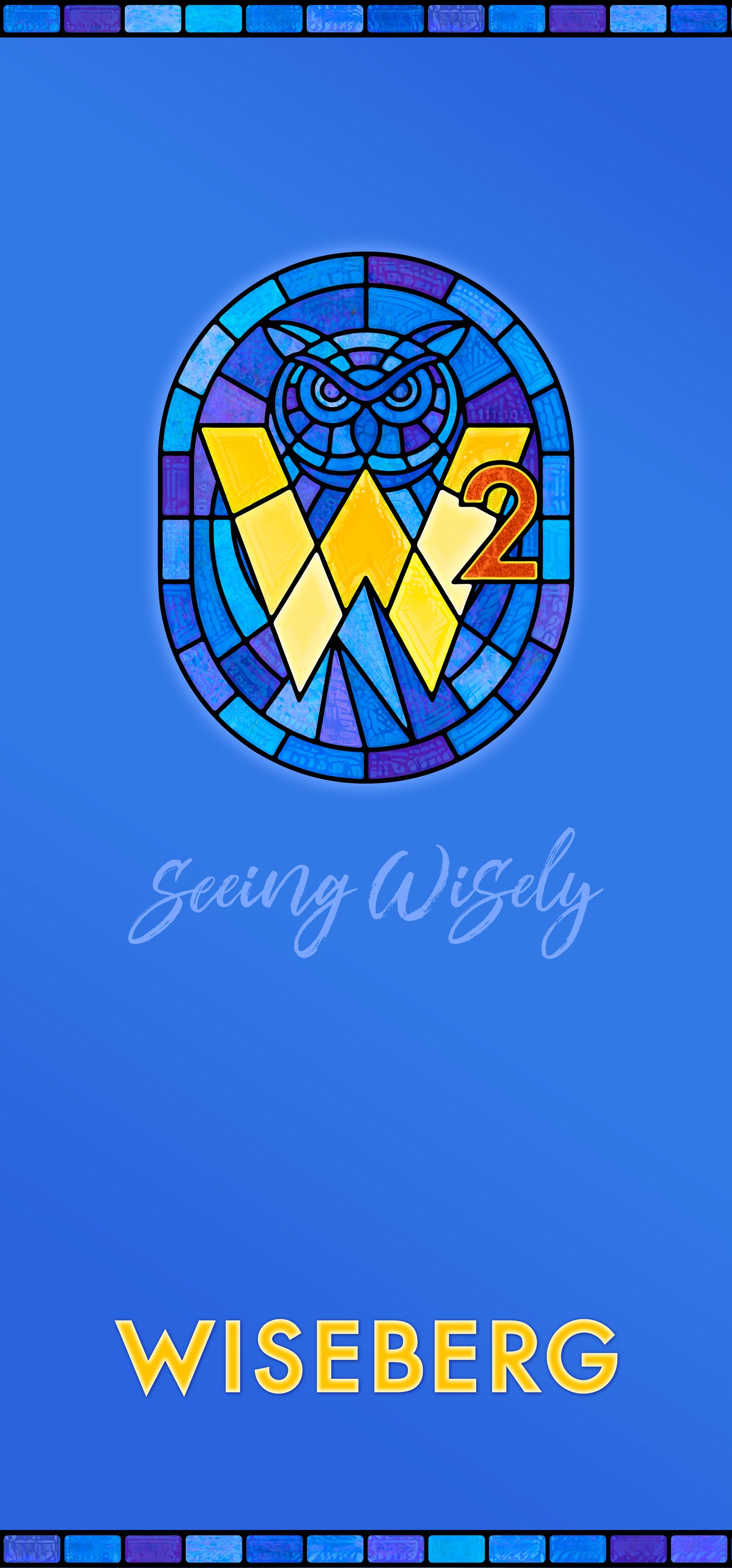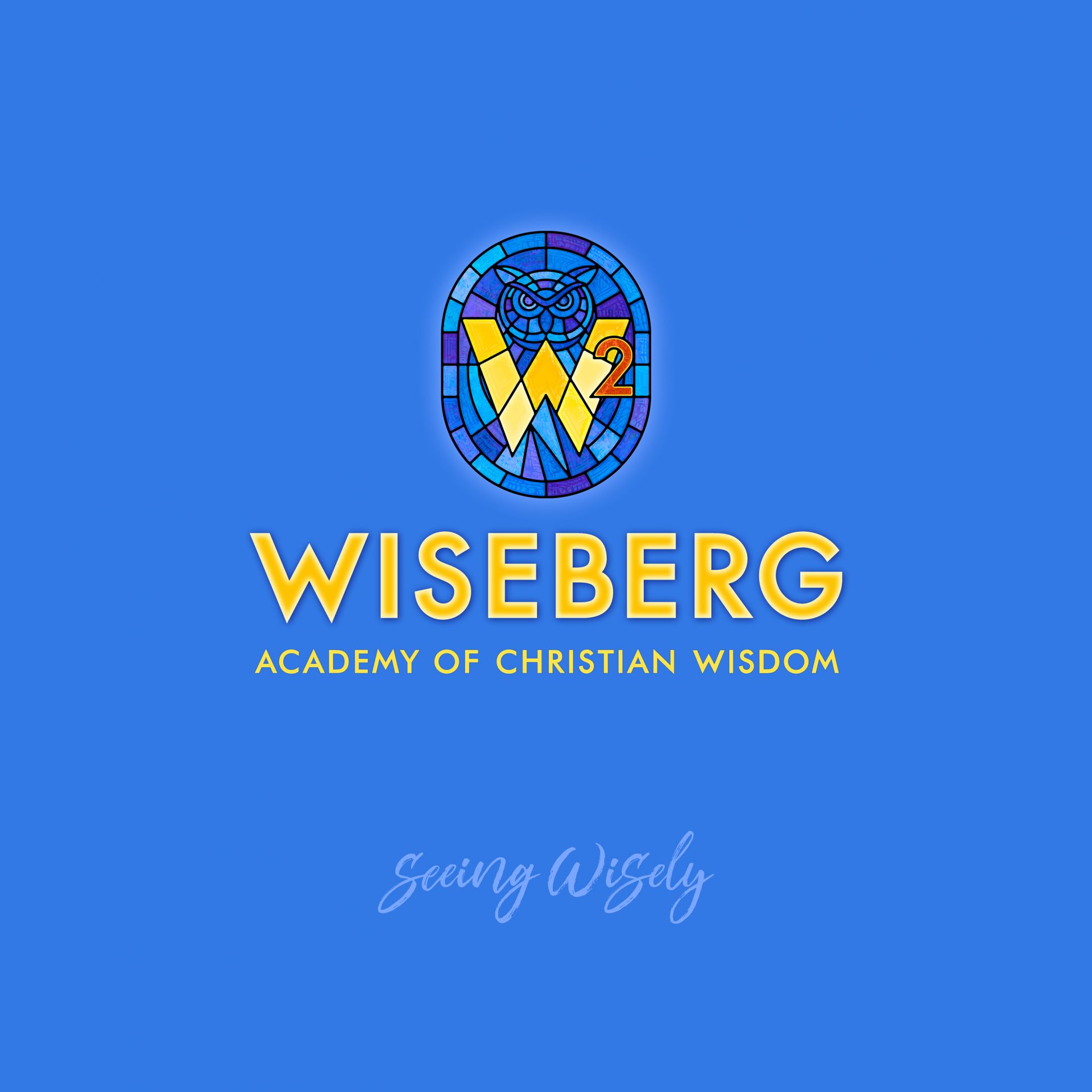 Wiseberg Logo.
Letter "W"
stand for both "Wisdom" and "Worldview". Whenever we see the "W2" we are reminded of the mission of the Wiseberg Academy to transform worldviews by means of wisdom.
Number "2"
reminds that the synergy of these two "W" and "W" stands at the heart of the Wiseberg approach.
Yellow/gold
has traditionally been one of the colours symbolizing wisdom.
Blue
has traditionally symbolized heaven, divine. Thus, both together = Divine Wisdom.
Owl
above the "W2" is universal symbol for wisdom.
Mountain
under the "W2" is a reference to the Mount Sinai where divine wisdom in the form of the Ten Commandments was revealed to humanity.
The stain-glass
motive for the logo indicates that the Wiseberg project is rooted in Christianity, which helped the world to appreciate the beauty of the Divine Wisdom also through its tradition of stain-glass windows.
Scripture quotes
:
1:30 refers to 1 Corinthians 1:30 "Christ is our wisdom", 2:3 to Colossians 2:3 "whom are hidden all the treasures of wisdom and knowledge", 3:17 to James 3:17 "the wisdom from above is first pure, then peaceable, gentle, open to reason, full of mercy and good fruits, impartial and sincere", 111:10 to Psalm 111:10, 1:7 and 9:10 to Proverbs 1:7 and 9:10, and 28:28 to Job 28:28 – all to the famous maxim "the fear of Yahweh is the beginning of wisdom".
Created with